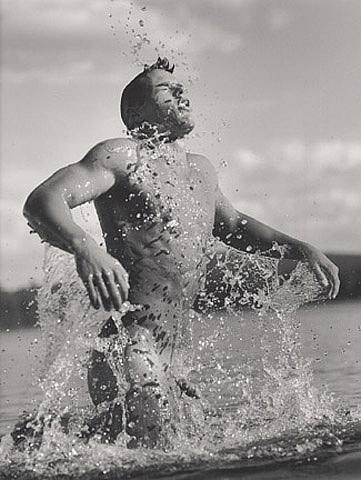 Fashion photographer and occasional filmmaker


Weber's fashion photography first appeared in the late 1970s in GQ magazine, where he had frequent cover photos. Nan Bush, his longtime companion and agent, was able to secure a contract with Federated Department Stores to shoot the 1978 Bloomingdales mail catalog. Soon known as a pioneer of modern male fashion and art photography, he came to the attention of the general public in the late 1980s and early 1990s with his advertising images for Calvin Klein. His straightforward black and white shots, featuring an unclothed heterosexual couple on a swing facing each other, two clothed men in bed, and model Marcus Schenkenberg barely holding jeans in front of himself in a shower, catapulted him into the national spotlight. His photograph of Calvin Klein of Olympic athlete Tom Hintnaus in white briefs is an iconic image.
Weber's photographs are occasionally in colour, however most are in black and white or toned shades. They are gathered in limited edition print books, including A House is Not a Home and Bear Pond, an early work which featured, among other models, Eric Nies from MTV's The Real World series.
Weber is credited for launching the modeling career of Isabella Rossellini.
He lives with Nan Bush, with whom he sometimes collaborates.
Weber directed the Pet Shop Boys video "Being Boring", which was both acclaimed and controversial. He filmed a wild party with a very diverse group of people. Filmed in one day by two film crews in a house on Long Island, it was the most expensive Pet Shop Boys video at the time, costing roughly $225,000. Though no genitals or female nipples were shown, the male and female nudity sufficed to prevent the video from being played on MTV in the United States.

However, the Pet Shop Boys enjoyed the video immensely, and worked with Weber again in 1996, this time for a video for "Se a vida é", a song from their Latin-influenced album Bilingual.
In 2002, Weber again directed a Pet Shop Boys video, for the song "I Get Along" from the album "Release".
Weber created the fashion label Weberbilt in 2003; his first line, "eat, swim, sex, sleep", went on sale in boutiques in London and Miami in 2004.