http://www.rodarte.net/
Founded by Kate and Laura Mulleavy.
The Mulleavy sisters are U.C. Berkeley graduates from Pasadena, California.
After their initial collection of just 10 pieces, the Mulleavys appeared on the cover of Women's Wear Daily and had a meeting with Anna Wintour.
Autumn/Winter 2008/09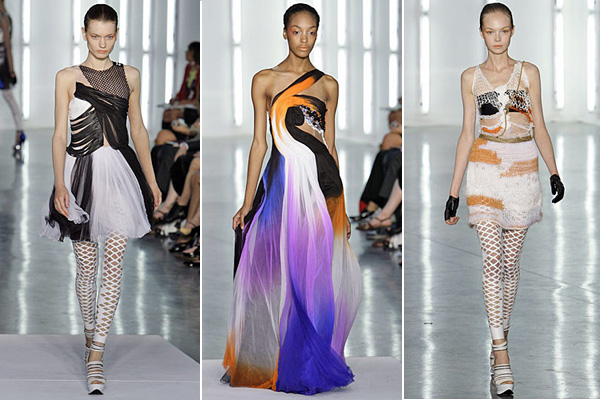 Spring/Summer 2009 RTW
On November 13 2008, The Mulleavy sisters won one of fashion's biggest monetary awards, The Swiss Textiles Award in Zurich Switzerland, worth 100,000 euros. Rodarte beat other fashion designers like Jean-Pierre Braganza, Richard Nicoll and Louise Goldin to the prize. They were the first women to win the award and the first winners from outside Europe. The jury for the prize included New York fashion designer Patricia Field. In a radio interview just after they received their accolade Kate and Laura Mulleavy said their sibling relationship is critical to their work and their success.


Autumn/Winter 2009/10
Celebrity fans include Tilda Swinton, Emma Watson, Chloë Sevigny, Cate Blanchett, Keira Knightley, and Dita von Teese.
At the 81st Academy Awards both Reese Witherspoon and Natalie Portman were dressed in Rodarte.
Actress and friend Kirsten Dunst accompanied them to the CFDA Awards in 2009.
Another friend, fan, and model is Joanna Newsom, who is often seen wearing their designs. She has previously modeled for them, and been an interviewer of the two young women.


Autumn/Winter 2008, Topshop Spring/Summer 2009


On April 23, 2009, Michelle Obama wore Rodarte while hosting Queen Rania of Jordan in the Oval Office.
The sisters have also collaborated with Gap, and most recently Target, on limited edition pieces.
Spring/Summer 2008


Latest news, source: Elle UK...
Rumours are flying that the label may be bought by LVMH.
Pierre-Yves Roussel, the chief executive of the fashion arm of LVMH, is a regular on the front row at Rodarte's shows. And, according to WWD, talks have taken place on and off since the spring between the fashion powerhouse and Rodarte - although for now it seems that they're more off than on.
If Rodarte were to be snapped up by LVMH then they'd be in good company - its roster includes Marc Jacobs, Louis Vuitton, Fendi, Givenchy and Celine. Watch this space...
http://www.elleuk.com/news/Fashion-News/is-lvmh-buying-rodarte/(gid)/568399
Their aesthetic is somehow romantic yet gothic, feminine yet strong.
The Mulleavy sisters are very talented, non?