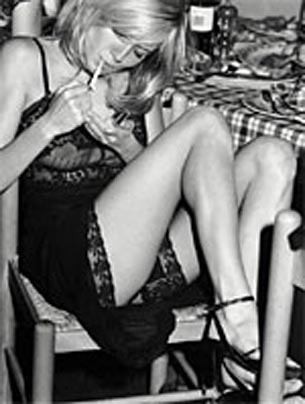 Actress, model and fashion designer.
Pallenberg is known for her romantic involvement with Rolling Stones band members Brian Jones, whom she met in 1965 in Munich, where she was working on a modelling assignment, and Keith Richards, for whom she left Jones in 1967 while on holiday in Morocco. She remained in a relationship with Richards until 1980 although they never married. There were rumours that she also had a brief affair with Mick Jagger during the filming of
P
erformance
, although Pallenberg denied the affair in March 2007 when
Performance
was released on DVD.
Pallenberg and Richards were together from 1967 - 1979. They had three children: son Marlon (born 10 August 1969), Angela (née Dandelion; born 17 April 1972) and a second son, Tara (26 March 1976- 6 June 1976), who died in his cot 10 weeks after his birth.
http://en.wikipedia.org/wiki/Anita_Pallenberg